Get Students Engaged with these outdoor writing ideas
If you need to switch up your writing time, getting outdoors is a great way to do that! These simple outdoor writing ideas will help boost creativity, give your students a change of scenery, and increase thinking and curiosity.
As I'm writing this, schools across the country are currently participating in distance learning due to Covid-19 closures. These writing ideas can easily be implemented at home or at school. For more at-home learning ideas, click here.
The Benefits of Being Outside
There are a lot of benefits to being outside. Getting our students and children outdoors is important for their well-being. Here are some benefits to getting children outside:
Getting outside improves sensory skills: When kids get outside, they have a chance to activate their senses in a different way. They get to use and explore these senses in different ways than the way they use their senses indoors. They hear the bee buzzing around them, smell the flowers blooming, see the green grass, and feel the hardness of the pavement.
Being outside makes you calmer and lessens anxiety: Seratonin levels go up when you're in the sun (WebMD). When serotonin levels are up, your mood is more calm and focused. Students are able to focus more on what they are doing, which is why learning outside is a great opportunity!
Nature is comforting to children: Being outdoors in nature takes away stress and the pressure of school, peer interaction, and family (National Wildlife Federation).
It improves focus: When children play outside regularly, they are more curious and stay on task longer (Sandford Health). Even though this is particularly about playing, I think just getting kids outside to learn would spark curiosity as well. Sometimes just "getting fresh air" is really a good way to boost your focus too.
It boosts creativity: According to WebMD, spending time outside in nature can help creative problem-solving skills.
These five outdoor writing ideas will be a huge benefit to your students in mental health and academically.
Write With Your Senses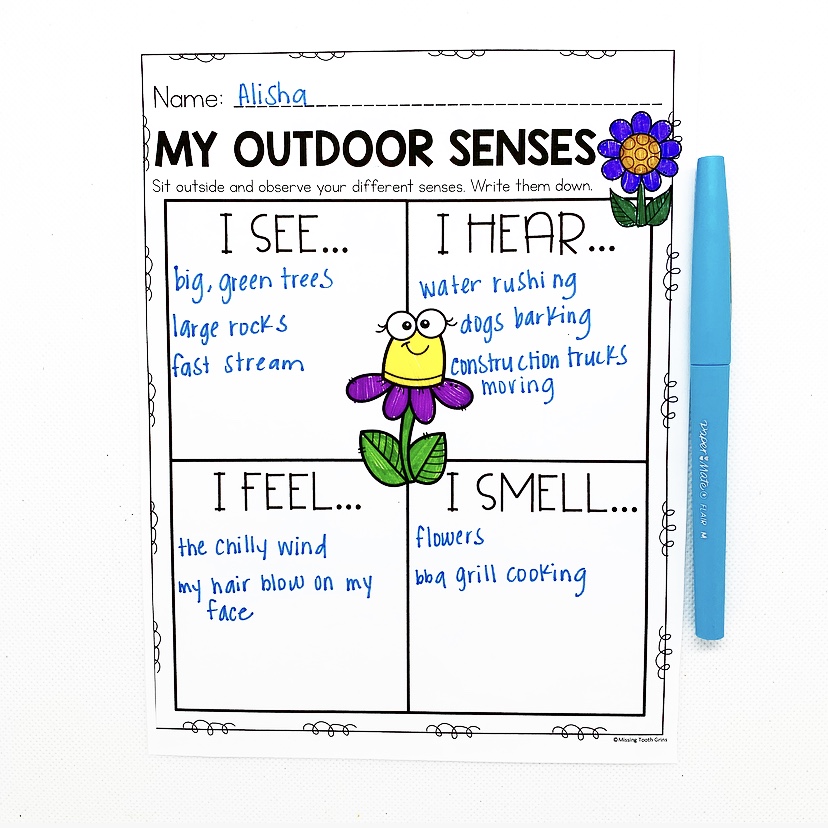 Sit outside and have your students close their eyes. What do they smell? Have them look around. What do they see? Have them use their senses to explain the outdoors. Explain to them to be specific. Saying, "I see the sky" is not using senses. However, saying, "I see white fluffy clouds" is using the senses. Have them jot down their senses on a sensory bubble map (included in the free download at the end of this post).
Sidewalk Chalk Adjectives
Sidewalk chalk is one of our favorite ways to write outside! This is a great follow-up activity to the one I previously mentioned. Think of different adjectives that describe outside. Encourage kids to think about the different things to describe: clouds, grass, dirt, houses, trees, rocks, etc. Think of colors, feeling, etc. Depending on your students, they could write what they are describing as well. For example, they might be able to write, "bumpy rock". You can extend this activity by having them write a sentence (i.e. I will paint the bumpy rock).
Go On A Nature Hunt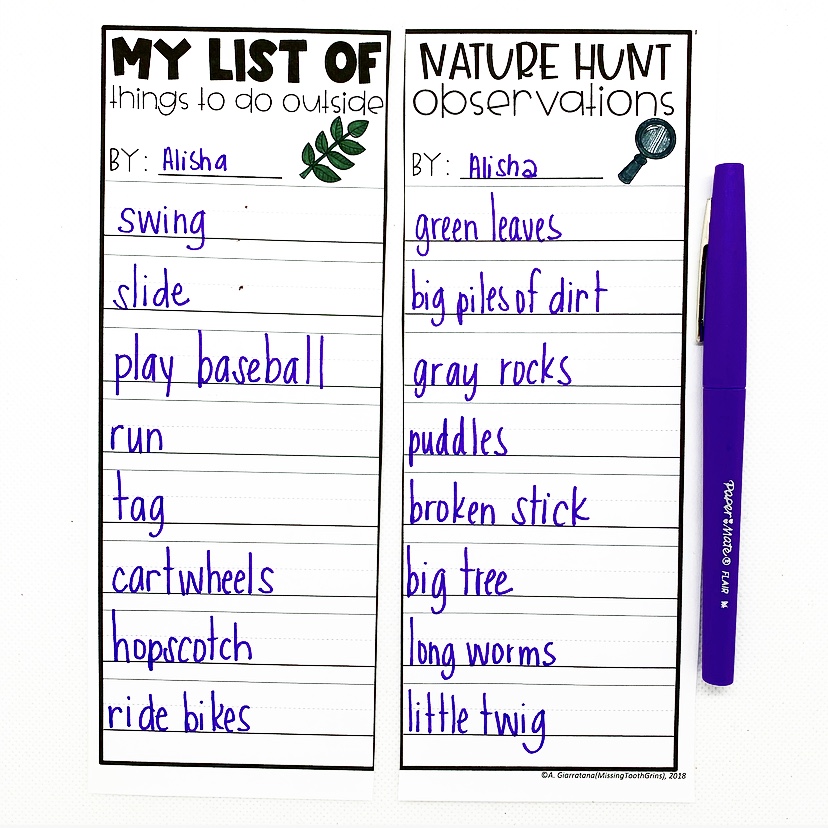 Walking around the neighborhood, backyard, or school playground is a fun activity just to get outdoors and moving around. Write different observations you see while you are on your nature hunt. Encourage your students to write different adjectives to describe the different things they see. For example, instead of just writing tree, write "large, green tree."
Make A Tree Observation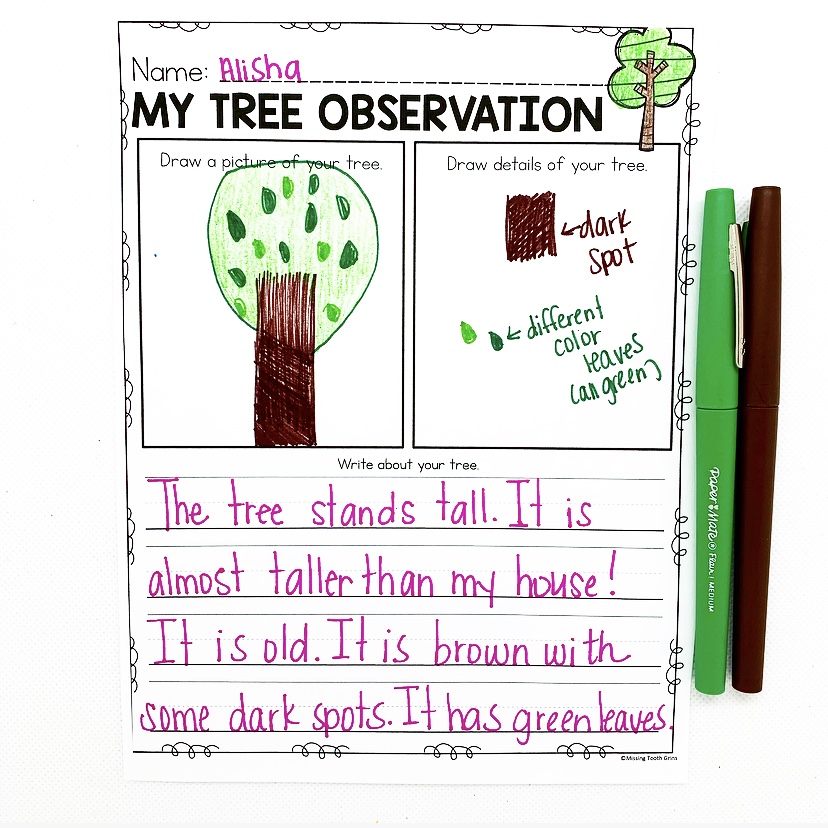 Find a tree! Sit down in front of the tree and just watch it. If you can, go out on a slightly windy day (not too windy! You don't want to blow away!). Just sitting and watching something that doesn't provide entertainment might be difficult for your primary students, so definitely watch behaviors and don't sit too long. While observing, have your students draw what they see and then write about the tree. Teach your students the importance of paying close attention to detail (i.e. this part of the tree is darker than the rest of it… Why do you think that is?). This deep thinking will help them with the way they think about their writing.
Write A How-To Story
Think about all the things you do outside! Write a how-to story for someone who doesn't know how to do it. Do you swing outside? Write a how-to story for someone who doesn't know how to swing. Then, see if someone can follow your directions to do it.
Grab Your Free Writing Pages Here
I hope you enjoyed these outdoor writing ideas! You can download all these writing pages for free!