Teaching story elements is one of my favorite reading comprehension strategies. There are so many great picture books out there for teaching story elements. I'm going to share eight of my favorites with you today! Keep reading for the list of books for teaching story elements and grab the free printable!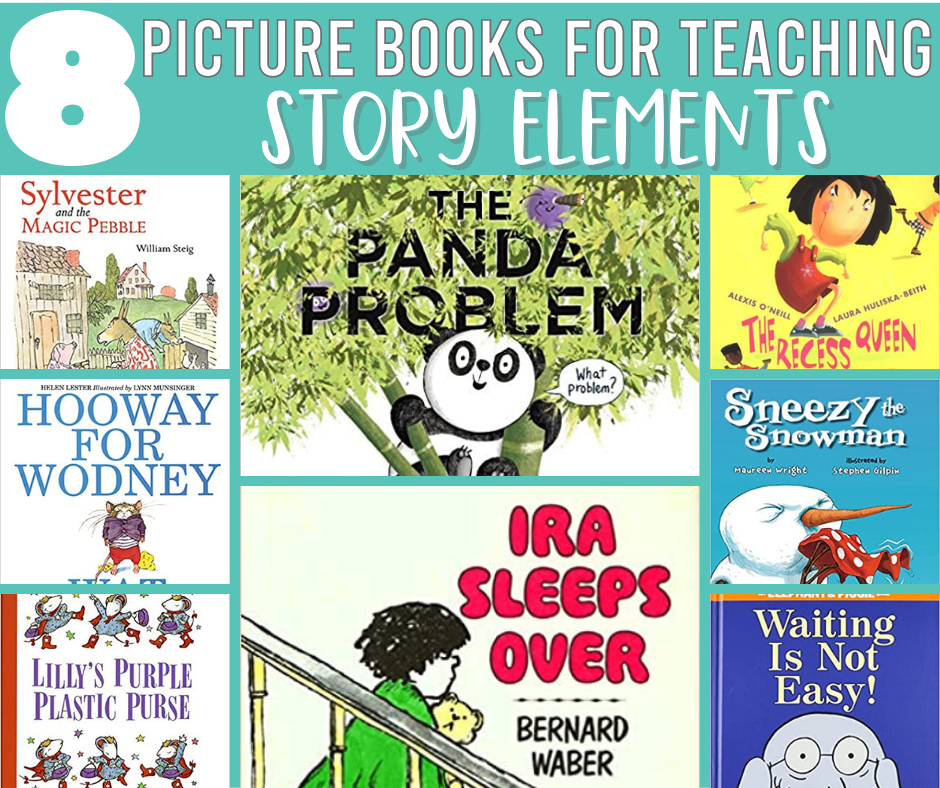 Check out these resources to support your instruction:
Books For Teaching Story Elements:
I feel like I mention The Panda Problem in every book round-up that I do, but it seriously lends itself well to many comprehension strategies. The panda in the story outright talks about the different story elements, which is what makes it so great for teaching the different story elements!
Nearly any (if not all!) book by Kevin Henkes is great to use for teaching story elements. His books always have a strong main character, a clear setting, and a problem and solution. Lilly's Purple Plastic Purse is my favorite though because she has such a strong reaction to the problem, which I think students relate to.
This book, Hooway For Wodney Wat, is such a fun read. Rodney Rat cannot pronounce his r's and his classmates tease him about it. However, Camilla Capybara moves to the school and bullies all of the class. Rodney is able to confuse Camilla with a game of Simon Says and his mispronunciation of the 'r' sound. It covers all the story elements so well with a clear main character and supporting characters, setting, and problem and solution.
Here's a book that could be pulled out for nearly every lesson! The Recess Queen is one of my favorites to use to teach about characters and character traits. However, it also lends well to teaching about story elements with clear characters, setting, and problem and solution. Students will easily be able to tell what the main events of the story are as well.
This story, Ira Sleeps Over, is about Ira who is going to his friend Reggie's for a sleepover. He is really excited until his sister asks if he is going to bring his teddy bear with him. Students will listen as Ira battles with himself of whether or not to take the teddy bear and will love the solution at the end.
You may think this book is just a winter book, but it's so much more! Sneezy The Snowman is about Sneezy, a snowman who is just too cold! The kids around him keep trying to warm him up, but then he keeps melting! Students love the surprise ending; it is definitely not something I would picture a snowman doing!
Here's a book I have used for many different lessons (I've always used it to teach context clues!). Sylvester and the Magic Pebble is about Sylvester, who finds a magic pebble that can make his wishes come true. However, Sylvester is scared by a lion on his way home and makes an unfortunate wish! There are very clear story elements in this text and students will be interested to find out how Sylvester solves this problem!
All kids love Elephant and Piggie, right? While the setting can be difficult to find sometimes with these stories (since they're typically on a white, blank page), these books can be great for teaching the other story elements. They have very clear main characters and Waiting Is Not Easy has a very clear problem and solution.
Try Our Free Story Elements Sorting Activity
Add this fun story elements activity to your centers or small groups! Sign up below.
Make sure to check out the complete story elements reading unit here. Printable and digital with lesson plans, centers, craftivities, assessments, and more!