Well, what a week it was this week.
We had conferences this week. Here's me preparing…
Does anyone else just lay everything out on the dirty floor after school to get everything ready? Dirty doesn't scare me. Germs don't scare me. I work with 6 year olds. It's going to be germy and dirty. No shame.
Conferences were a little different this year than they normally are. We used to have conferences on Wednesday and Thursday. The kids would get out of school at 1:20 and conferences would begin at 1:45. We would go until about 4:30 on Wednesdays and 7ish on Thursdays. We still had school on the following Friday, but we would get out at 12:20. Fridays were rough and no learning was really accomplished on those days to be honest with you.
This time, conferences were on Tuesday and Thursday. The kids got out of school at normal time (3:20). Conferences started at 4:00, some teachers had conferences before then. We went on both nights until 7ish. Some went later, some were finished earlier. I finished at 7 both nights, which was difficult Tuesday since the ROYALS WERE PLAYING IN THE WORLD SERIES. What? Yes! Anyway, we have today off this year! It's pretty wonderful.
Did I mention that our conferences were student led? It was our first time doing student led conferences and honestly, I could
not
be more proud of my firsties. I will blog more about it this week over at
The Primary Pack
(on Tuesday)! But, here's a little sneak peek of some things we used.
I sent these questions attached to our newsletter the Friday before:
And, the kids filled out this reflection about themselves to share with their Leadership Notebooks:
This little one said she "rocks at being on pink." Hehe. So cute. She does, by the way. In case you were wondering…
You'll be able to read my whole post about Student Led Conferences at
The Primary Pack
on Tuesday. I will also be uploading a whole pack that will lead you through the process! I'm very excited about it! It helped me so much! Seriously, student led conferences ROCK.
And did I mention the ROYALS are in the World Series? Seriously, I can't get over it.
I'm sure I've completely driven my Instagram followers crazy with the numerous Royals pictures I post. But… You guys, they haven't been in the postseason, let alone THE WORLD SERIES, in 29 years. So, we are excited here in Kansas City!
You might've even spotted my best friend, her hubby, and their adorable baby Kauffman on Fox Sports. This picture truly makes my heart so happy!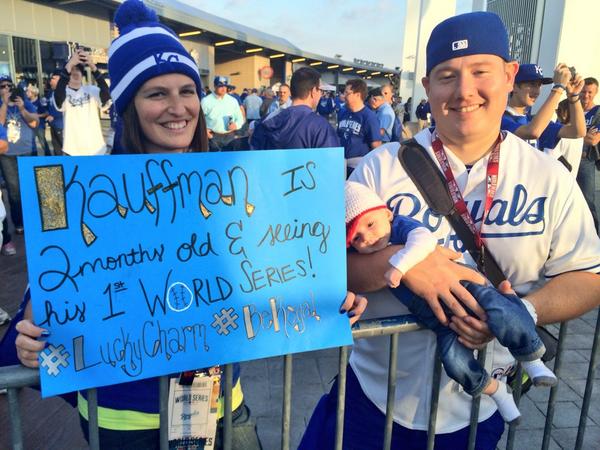 They were also in a Sports Illustrated article. So weird. But, so awesome!
My kids learned about being Super Leaders this week! First, we discussed the 7 habits (we are a Leader In Me school). Then, we created an anchor chart with what Super Leaders do and what they "eh not so much do" (that's how we worded it when talking about it… Eh… Not so much…). Then, they wrote about what habit they are a super leader at!
It made for a pretty great hall display! Look at all these Super Leaders!
So, I had bus room a couple times this week. My teammates and I switch off. During bus room, I always try to get extra things done. This week, I was cutting out lamination… My students are extremely helpful. Seriously, they want to help me all the time. This is definitely not a problem. I enjoy them helping me. So, it was no surprise that my kids wanted to help me cut. And… I let them! I know people probably wouldn't normally do that, but they did a great job 🙂