Record Yourself Reading A Back To School Book
You can read to your class before the first day of school in 5 simple steps. By recording yourself reading your favorite back to school book, you can build relationships with your students and their families before school even officially starts! It is a great way to build community with your students right from the beginning. I have done this the past five years and I have always received a lot of great feedback from my students' caretakers.
Why Record Yourself?
Why should you record yourself reading? When you read to your class before the first day of school even starts, students will get to see you before school begins. They are probably excited, but might also be nervous and scared for a new teacher, class, and grade level. They've been with friends and their caretakers all summer having fun in the sun and now it's time for a big change. Change is scary, but this is a way to share yourself with your students.
What Book Should I Choose?
Here's a list of possible book choices:
A Video Tutorial
I created a video tutorial for you to watch and follow along so that you can create your own video and tags. I show you right from the beginning how to upload your video to YouTube (but I somehow forgot to mention that I was on YouTube! Sorry about that!). Click below to watch or if you would rather read and see pictures, scroll down below.
5 Steps To A Bedtime Story: A Picture Tutorial
Now that you have decided to create a bedtime story recording for your students, it's time to make it! I'm share pictures below to walk you through the 5 steps.
1. Record Yourself
After choosing your book, it's time to record yourself. I record myself reading with my iPhone. If you have a tripod, I suggest using that because you will need both hands to hold the book and turn the pages.
2. Upload Your Video To YouTube
I like to do everything from my laptop, so I airdrop my video to my Mac. Then, I upload it to YouTube. Make sure you are uploading your video on your school google account and not your personal account. If you do not have a school account, I highly suggest making one for this activity. You don't want your students to watch this on your personal account.
First, head to YouTube. Click the video camera at the top right and click "Upload Video".
Next, select your video to upload.
3. Change the visibility
Once your video is uploaded, change the privacy of your video to Unlisted. You can share the URL this way, but people can't find it. That way, random people aren't finding it and watching it on YouTube.
4. Create Your QR Code
There are a lot of free QR code generators out there. I use this one. Copy and paste your YouTube video link into the QR code generator. A QR code will then appear that you can download.
5. Insert your QR code into your tag
You can create your own tag or you can use mine here. Insert your QR code onto your tag. You will have to resize it to fit the tag. You can copy and paste your QR code onto other tags to save you time from inserting it over and over again.
Send Home To Your Students
I pass out these tags at Back To School Night, which is typically two nights before the first day of school for me. You can see in the picture that I attach them to the back to school forms so the tag doesn't get lost in all the paperwork. If you won't see your students before the first day of school, you could send a link through email or attach the QR code to the postcard you might send before school starts. You can read more about those forms inside the ziploc bag here.
Grab The Tags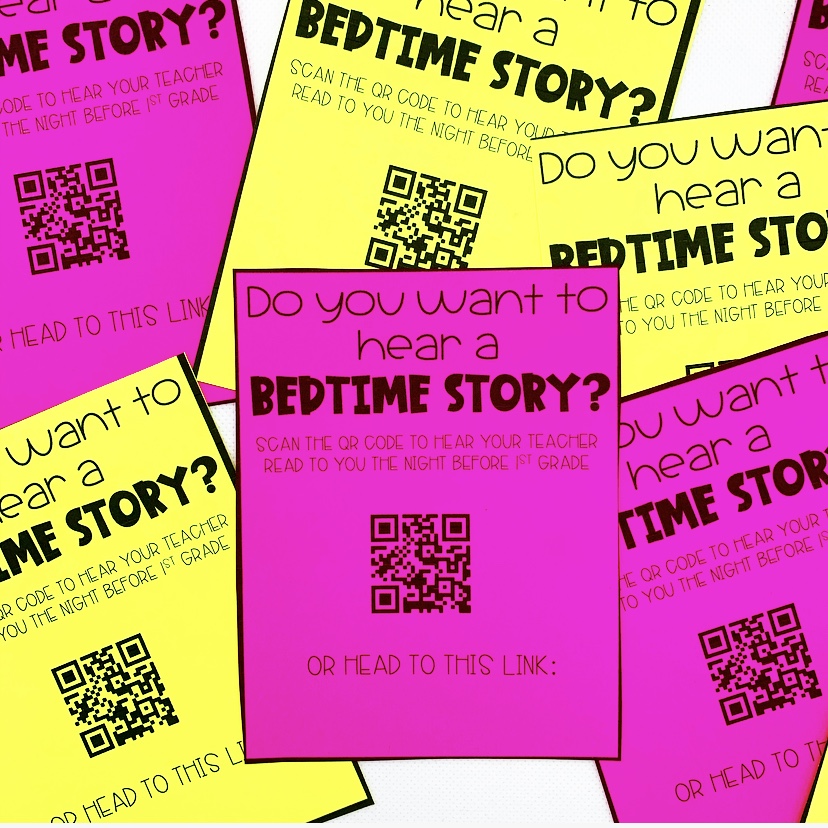 If you don't want to create your own tag, I have a variety of tags in this resource! You will just need to insert your QR code onto each tag like I showed you on the video. Now, go read to your class!
If you need more back to school resources, click here to see other fun activities I have available!